Post by daisyandtom on Jun 28, 2015 11:25:42 GMT
Hey guys,
Firstly, I just wanted to say thank you for the massive amount of support I received on the other thread when Sky was poorly. It's so comforting to know you can come to a place like this and have people who completely understand what you're going through and providing advice and comfort, rather than thinking "it's just a budgie".
So, it's been a week now since my little Sky bird passed away and I just wanted to share a tribute to her.
Our journey together began on 30th May when I was looking up budgies for sale on preloved and gumtree. I realise this is not a recommended way of buying birds but I suppose I have a romantic notion of giving a loving home to a bird or birds that are no longer wanted. Anyway on this date, I spotted her on preloved and she was available in my town!
I immediately messaged the owner but didn't hear back until the next day. The owner advised she was getting rid of her because her 2 dogs kept jumping up at her cage and wouldn't leave her alone. I already had my heart set on her so after a brief chat, we made arrangements for her to be dropped off at mine.
When she was dropped off, my first observation was that the cage, contents and carrier bag of spare food etc reeked of cigarette smoke. I have never been a smoker and I am not anti-smoking for those that do smoke but this was really, really bad. Normally when we bring new birds in, we leave them to settle but the odour was so strong, my hubby went up into the loft to get one of our spare cages. We thoroughly cleaned it out, put new wooden perches in it and swapped her straight into the new cage and then left her to settle as normal.
My second observation was how utterly beautiful she was (This would have been my first observation had the cigarette odour not been so strong!) To be fair, I think all my birds are beautiful but there was something different about her that just made her stand out. She was a sky blue exhibition type with white head feathers and white wings with grey markings. I think from looking it up she was a light blue opaline spangle although I am rubbish at working their genetics out so I could be completely wrong there! Her posture was also amazing - the way she held herself was almost regal-like!
Her previous owner had called her Angel but we weren't keen on this so after much deliberation changed it to Sky as she resembled a cloud. It's funny though, I think because all of my other birdie names are 2 syllables long Sky never quite rolled off the tongue for me so I always called her Sky-bird.
From the start, she was very quiet in comparison to my other buds. She did chirp from time to time but it sounded different to any chirp I've ever heard - like a rusty gate swinging in the wind. She also never chattered away like my other buds do; just the odd chirp here and there. She didn't move around her cage a lot either. She'd move to eat and drink and she'd play with the hoops we put in but she definitely favoured one particular perch and sat on this the majority of the day.
I just put these things down to her having a nervous disposition (she used to tremble when we went near her) however in hindsight, they were probably clues things weren't quite right; I just didn't pick up on them as I thought she was settling in.
I have been working from home a lot lately and therefore ended up spending a large amount of time with her. I would spend a lot of time sitting by her cage talking to her soothingly but equally try and give her enough space to settle in. Curiously enough, even though she was the most nervous of all our birds, she did step up (although I must say it was with some reluctance!)
Apart from her quietness, there was nothing really that stood out to me as there being anything wrong. I have owned budgies for 4 years now and whilst I am by no means an expert, I would like to think I have learnt enough in that time to learn what is normal and what isn't. Her droppings looked very normal for 2 weeks and she preened and ate and drank normally.
Unfortunately 2 weeks and 2 days after coming into our lives, I noticed the first signs of illness; sleeping a lot and watery droppings. How I wish now I'd taken her to the vets ASAP but the trouble is I didn't want to overreact and put her through the stress of going to the vets (it's a 45 min drive away) when she might've been over whatever it was in a few days. Unfortunately things continued to deteriorate and we booked an appointment at the vet a few days later. As some of you may have seen on my other thread, the vet immediately confirmed she was very ill and suspected she had psittacosis - we are still waiting for this to be confirmed. She sadly passed away at the vets the next day.
I think I feel most sad as our journey together was only just beginning. Before she started showing signs of being ill, she really seemed like she was getting more relaxed around us and I could see her really looking at me with her beady eyes when I was talking to her.
I wish I could go back 3 weeks and tell myself we would only have such a short time together so I could make the most of every moment. As I mentioned in my other thread, I only have this one photo of her which I took on the day I got her. It genuinely doesn't do justice to how beautiful she was.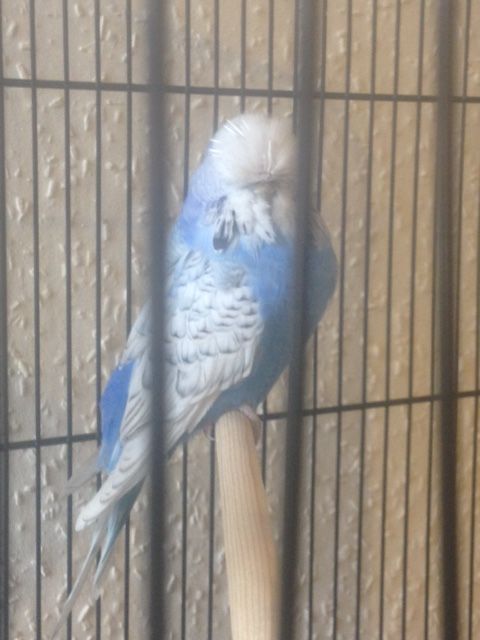 Goodbye Sky bird. I wish you had been with us a lot longer but I'll never forget you.
Xxx