Rita
Aug 16, 2018 18:18:07 GMT
Post by clt80 on Aug 16, 2018 18:18:07 GMT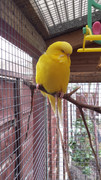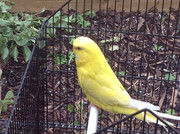 Rita is now at Rainbow Bridge, much to my broken hearts devastation.
She fought a very brave fight, but the past couple of days her quality of life has deteriorated and the suffering was getting to great. Today i made the call after discussing with OH and we went to the vets at 6.10pm and Rita was pts at 6.18pm.
I am devastated. The only 'being' more devasted than me is Henry; he came with us, I wanted Rita to have him on her final journey. It made me cry how out of the two little perches in the travel cage they both stood on the same one together as they made this journey.
It was a new vet and they said rather than just inject Rita they think it would be more comfortable for her to be given a little anesthetic so she would go to sleep first before the dreaded injection. So that is what we agreed to. I held her next to the travel cage and Henry came and kissed her beak. Then I held her one last time, stroked her little head and then she was taken from me. When she returned she was already at Rainbow Bridge. I don't know why I didn't ask to go in the back too, it was all a bit overwhelming. Sat in the car on the way home with Rita wrapped in a little towel I'd brought and Henry in the travel cage and Henry started going ballistic - he knew, I am sure of it. When we got home I showed Rita to Henry and he started preening her, OH said he was trying to rouse her, I think he was right. Henry was then taken outside to the aviary to join the others.
Rita has been buried in the area with of the garden near the aviary where others lay who have gone passed over. I am going to buy some tete-tete bulbs tomorrow to put on the top of her grave.
Rita came to me from the RSPCA alone with Bob and Sue in July 2014. I always wondered if she was related to Sue in some way, with them both being such similar colours and being up for rehoming at the same time. Rita was the quiet one of the three, very reserved and shy, although she was no push over and could stand her ground. I always thought she was such a beautiful budgie, all budgies are, but she has something else; elegance, she was a true Lady. Every feather was always in place, she always always looked immaculate and the shape of her eyes were just stunning.
Many have tried and failed to woo her. She preferred to keep company with others of similar nature, in particular Betsy who passed last year. She liked nothing better than to sit in her favourite spot and watch the world go by. She was a contented bird.
Earlier this year when the babies were old enough to go in the aviary Rita caught Henry's eye. His persistent, and I mean he was really obsessed with her, finally paid off. Rita succumbed and they paired up. Although I never saw them mate, much to Henry's dismay, they were always together preening, singing and eating. They were inseperable. I am glad in what I now know was the final months of Rita's life that she got the chance to meet Henry and know real love.
When Rita started struggling flying it was put down to bumblefoot, of which she had started to develop. A second opinion showed that she did indeed have bumblefoot but that it was secondary to ovarian cancer. The lump grew to a fair size and hindered poor Rita. Life became a struggle for her.
Henry has been there by her side whilst she has been inside. Feeding her, preening her, sitting with her. Each night when they would go to sleep they would go up to a top corner of their cage and there was a place they could lay down if needed. They went there most nights, it was their preferred spot. I smile when I think of how Rita would get herself settled in the corner and then Henry would come and sneak into the smallest gap between Rita and the side of the cage, he would really squash himself in so he was all snug.
Rita - you have been so brave. All the medicines you have had, all the creams you have had rubbed on your feet, even the salt foot baths, you withstood and showed real courage. I am sorry for all the handling I had to do; I felt it was necessary in the long run. Although I knew you would never recover, I wanted you to have as much happiness as possible before the end. I love you and will miss you, and I promise to look after Henry for you. Rest in peace my love, until we meet again fly highxxxx