Post by clt80 on Apr 10, 2019 8:31:01 GMT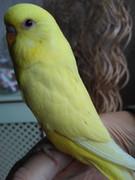 Poor Cora lost her fight on Monday the 8th of April 2019. She was just over 18 months old, so still so young. She had gone blind and we believe had a neurological problem. She fought a brave battle right to the end but it was too much and she had to let go. I would like to remember her in her more happy times.
Cora was the first of an unexpected clutch Shirley had. Cora was a beautiful lutino, and she bonded with her brother Quentin early on. Cora was mostly timid in nature and quiet; however when she needed to she would sqwark and peck others who got in her way or irritated her - much like her mother Shirley really. Out in the aviary she liked to sit on the far swing and preen herself. Quentin went on to love another, but Cora was okay, she was in the single girls club along with Harriet and Ivy.
In the morning the single girls would always be the last to go out and Cora would slide down a branch to get out - I always thought it was so cute. She was always cute as a baby chick. I hope she knows how much i loved her and that i am so sorry for what she went through at the end - i dearly hoped i could get around the sight loss and adapt things for her so she could have a good quality of life - I believed this was possible I really did, but alas, the neurological issue was too much and there was far more going on than i was aware.
I am sorry Cora for the things that happened at the vets, i thought it was in your best interests and that it may save you; but it turned out to be just torture and for no gain. Forgive me.
I hope you are flying high and you are in no pain and can see again all the beautiful things at Rainbow Bridge. I have buried you body in between your sister Ida and your mother Shirley. All the girls back together again. Rest in peace my sweetheart - I love you xx