Post by clt80 on Apr 24, 2019 16:27:54 GMT
Today Harriet has left me and gone to Rainbow Bridge.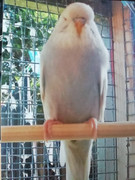 Harriet had been suffering with an eye problem for a few months now; first we thought there was a foreign object in it, then we thought it was possibly her sinuses, but after a large swelling which was closing her entire left eye happened we realised something more sinister was happening.
Poor Harriet had tried gel eye drops that were administered daily, then she'd been on Tylan which is suppose to take awful. When she was inside in her hospital cage she would sit on her swing, swinging away and was such a good girl. The past few weeks she has been outside enjoying the sunshine, but i had noticed that her breathing wasn't quite right and her eye was getting more swollen. The last couple of days Harriet was mainly sleeping, so I booked a vet visit today. I think deep down I knew whatever the issue was it wasn't going to get resolved but I think I thought today wasn't the day - that we would have more time. I'd bought a bundle of millet and as I put Harriet in the travel cage I pondered whether I should put a piece of millet in along with her seed; i decided not to and said to her 'it's ok you will be coming home and can have some with the others'. I really wish I had not said that.
The fight she put up when trying to get her in the travel cage gave me hope. Hope she had energy. Hope she could fight on. The vet said the only other thing left to do is to operate to see what it was and if anything could be done, we also talked about having Harriet pts. The hardest thing other than losing them, is finding the balance between giving them every chance but not letting them suffer in agony. Harriet's eye problem was really chronic and I explained I dont have anyone to make these decisions with and she so kindly said from now on she would help me with this - and in Harriet's case she thought it would be kinder to end her suffering as she didnt think she would ever get better. This vet I hold a lot of respect for, when it comes to birds she really is the best, so to have her helping me I feel she would tell me honestly and from the heart.
So after a lot of tears from me, Harriet squarking and squealing until the last second ... she was pts. I have just buried her next to Bob and facing the aviary.
Harriet was a rescue, from the RSPCA, and I got her in 2016 - the same year she was hatched according to her leg ring. When she came to me she had clipped wings, and being quite a hefty bird (she isn't a full english but I'd guess one of her parents was) she couldn't fly. It never stopped her having a go though and she's gently flutter down to the ground before climbing up the side to a perch. Harriet was one of the ladies - along with Rita, Betsy and Ivy who liked to sit inside in a morning and wait for everyone to go outside before they would gracefully walk out to greet everyone. She would keep herself to herself but being a typical hen if anyone crossed her or got in the way of the seed pot she wanted god help them! I only ever saw her interested in one other budgie - John. I did see them mating the odd time - it was like she was his secret girlfriend. She was ever so beautiful though, a lovely soft grey body, with white wings - so pretty.
Harriet - I hope you are at Rainbow bridge and flying free with no pain. Please forgive me for not being able to make things better for you. Until we meet again, all my love xx