Post by clt80 on Aug 19, 2020 7:44:22 GMT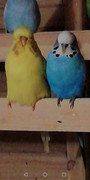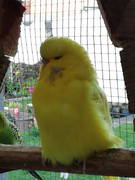 It has been an awful two months, with it hitting a new high this weekend, my gorgeous Sue had gone to rainbow bridge.
Sue came from the RSPCA back in July 2014, along with Bob and Rita. She was a lutino, a lacewing I think, and she was an exhibition bird - she was huge. Bob had made a friend in Bertie when he came to me, and when Bertie passed Sue looked after Bob and they became partners.
Often they would sit on a swing together and watch the others flying about; I always thought of them as the parents of the flock. the older, more mature and sensible ones. They liked a slower pace of life.
When Bob passed Henry stepped in and before long Sue and Henry were inseparable. Tiny Henry cuddling up to Big Sue on the cold nights, they were always touching, sat on top of each other. They had a really special bond. I have seen many birds bond over the years but Sue and Henry were something else; it was like they were the same soul. They were always, always together. Henry would not go out until Sue went out, he would not go back in at night until Sue went in. They were very sweet together and many commented on the ' blue bird and the yellow bird who were always together'.
I don't know how old Sue was, she was not a chick when she came to me so she was at least 6/7 years old, I'd guess much older.
She liked to be with Henry, she liked to play - she would pull and break any toy she could, happily tugging all day until something snapped or broke then she'd be pleased. Sue loved bathing, she would try to fit herself into the water bath splashing about, and on hot days when I'd mist the aviary with a hosepipe she would come running over to it and flutter about in the mist until she was drenched. She was young at heart that is for sure.
Sue had not been ill, she was quite healthy and active which is why this has come as such a mind numbing shock. Saturday night she was safe and sound locked inside asleep with the others, Sunday morning she somehow had got to the bottom of the aviary and had passed. It is a mystery and one that keeps going around my head, I know it won't change anything but I just want to know what happened and why.
Sue
- Henry is missing you desperately, I am quite worried for him. I am spending time with him and will look after him. I hope you and Bob are reunited, fly high over at Rainbow Bridge, we love you and miss you xx