Post by clt80 on Feb 17, 2021 10:32:00 GMT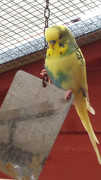 Heartbreakingly my little Heathcliffe has gone to be with Roxanne over at Rainbow Bridge.
I suspect it was a cancerous tumour, he'd lost the use of his right foot some weeks ago and the diagnosis was with a tumour pressing on the nerve, or he'd caught his foot and injured the nerve somehow. He coped admirably, hopping about, flying to and fro, and using his right leg as a prop to stand up. Poor Heathcliffe. He had been with me for 7 years, so he wasn't a young chick by any means, who knows how old he actually was. He was such a tiny little chap, I did always think of him as always being in his youth.
He had a good life, he first got obsessed with a certain mirror (said mirror in the picture) to such an extent I was sick of cleaning it daily and it got removed for a while. This caused Heathcliffe to turn his attention to Dorothy, a special needs bird in the avairy. It didn't take long before they paired up and spend their days and nights together getting up to allsorts. When Dorothy became ill with a lipoma it was Heathcliffe who looked after her inside, both in the hospital cage. He was so good with her, it is as if he knew there were some things she was physically unable to do and he just helped, he made things better for her. He loved her very much. When Dorothy passed, Heathcliffe was distraught and spent a good week running back and forth on a perch distressed. I had never witnessed grief that strong in a bird before, nor have I since. With the help of Roxanne he eventually came to terms with Dorothy and began to live his life again. He had the odd dalliance with Ivy, but Roxanne was now his No. 1. Roxanne passed only a few weeks back, and Heathcliffe tried to carry on, but it seems his own illness was just too great.
He spent the last couple of days inside in the hospital cage, with a comfy towel on the bottom so he could rest. All his food was water were on the floor so he didn't have to use energy to move. He was in the same room as Tom and Mabel, so he could see and hear them and have some company. He was so loving with Dorothy when it was her time to go, that I didn't want Heathcliffe to not have anyone with him. I wanted someone to look after him. It was only last night when I realised that other person was me, I had to look after him and give him comfort. This morning he had fallen asleep. I am glad he did not suffer, but i am so saddened at losing him. He really was a unique little boy who I loved very much.
Heathcliffe - you will be with Dorothy and Roxanne now, your foot will be back to normal and you will be flying in fields of millet in the sunshine. God bless you darling xxx