Post by clt80 on Jun 11, 2021 8:07:18 GMT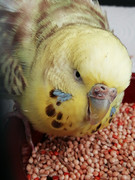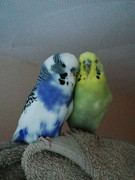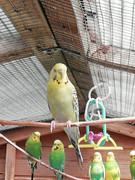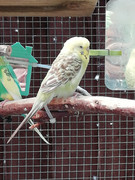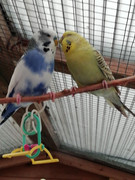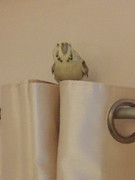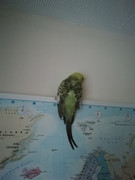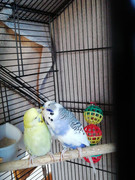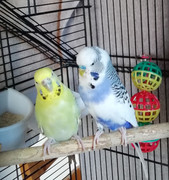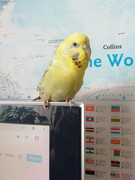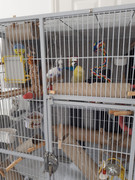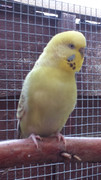 A piece of my heart broke yesterday and went to Rainbow Bridge with a very special little bird called Mabel
Mabel was hatched 14/2/2014 and came to live with me as a young 3 month old chick, along with 3 siblings. Previous to them, I'd only had 2 budgies: Betty and Bertie. She had been living with me a long time and I am not sure how I will cope not seeing her little face and talking to her each day.
There is so much I could say about Mabel, I could write a book! But I will try to keep it brief. Her nature was sweet but firm - she took no prisoners and as the numbers went up in the aviary she quickly became established as top of the pecking order. She chose Ron as a partner and they were inseparable for a good couple of years. Ron is chief eater so Mabel was in good company. Many a hen tried to challenge for top spot in the flock: Roxanne, Pearl, even her sister Agatha, but Mabel remained where she belonged. She was never really a naughty bird, there was only once when she took a dislike to Dorothy and she had to come inside to have 'time out'. Whatever the issue was it went away and life resumed as normal.
Mabel eventually decided Ron spent to much time eating and paired up with Tom - a handsome purple and white chap. Poor Ron was heartbroken but took solace in his food. Tom and Mabel were always seen on the swings, swinging away or getting up to no good

A lovely big blue hen named Charlie came to be with us, Mabel made an instant bond with her and Tom was demoted and Charlie was now Mabel's best friend. Some years later when Charlie became poorly I will never forget how Mabel looked after her, feeding her, preening her, singing to her. I remember thinking with amazement how altruistic Mabel was, the love she had for Charlie.
After Charlie's passing Mabel went back to Tom and they remained inseparable until her passing yesterday. Tom loved Mabel dearly, as she did him. When she broke her toe and was put in a splint she remained inside (with the babies at the time who'd just hatched and fledged) and Tom really pined for her. Mabel would spend a couple of weeks inside with the babies, hobbling about and chewing oat before bedtime as the sun set outside the window into her cage. Her toe healed and became known as the infamous pointy toe. I still have the splint the vet made for her little leg out of a cotton bud stick.
A good three years back something happened to Mabel, it was suspected liver disease. When the time came that she could no longer cope in the aviary I brought her inside to the biggest cage I had along with Tom, and furnished it and plenished it with toys, mirrors, nutritional food and the odd treat. I quickly realised that Mabel was never going to be able to go back to the aviary full time so I invested in the largest cage I could afford, and this became her mansion. More toys went in, along with cardboard rolls that she liked to peck and run through, sometimes she would sleep in them god love her. She liked to sit in plants, and on the map of the world I have pinned to the wall. Her most favourite place was the double swing, she would swing and swing on there all content as if everything was right in the world. Yesterday I went to the pet shop to buy some millet and I got her some new toys and a new ladder and the prettiest new double swing with bells and beads on; I thought 'wow I have to get this Mabel will adore it!'. I fixed it in yesterday morning, as Tom was suspiciously and Mabel sat on her normal swing watching. By late afternoon when I came home she had passed
She coped extremely well with her liver disease, having beak trims at the vets (which she hated), having supplements in her water which she duly drank like the good girl she was. Mabel was tame, I never teached her and I can't quite remember when it happened but she had the confidence and some sort of trust in me to feel comfortable trampling all over my head and running uo and down my arm. She would sometimes sit in the crease of my elbow and get comfy for a little nap. She really was an amazing girl who I love very much. How she survived a good 3 years with this awful disease I will never quite know, I only know I wish I had half the amount of courage and determination she had.
Mabel - I miss you so very much already, you were one of the most special budgies I have ever known. Tom is back in the aviary and seems to be settled, I will look after him for you. Fly high with your two sisters and your dear Charlie - I love you <3