Post by clt80 on Feb 8, 2019 8:47:39 GMT
I have wanted to write this for a few days now but just couldn't summon up the energy or find the right words. But, this is something I feel I want, and need, to do for Francine and for myself.
Francine passed on Wednesday 30 January 2019 around 11am. She had had sinusitis for several weeks and had stopped eating; whilst she had tried antibiotics they hadn't helped, so she was having an aneasthetic and an flush of her sinuses. The vet told me as they did the flush a whole lot of infected material came out her nares however she then stopped breathing, and despite her trying to revive Francine, there was just no response - nothing.
I would like to try to remember Francine for who she was as a budgie, rather than the last few weeks of her life. This is Francine: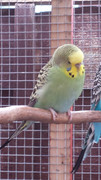 Francine was hatched around mid February 2014 and came to live with me in Summer 2014 along with her three unwanted siblings: Ralph, Agatha and Mabel. Francine was the baby of the clutch; She looked different to the others, they were all light green whereas Francine was dark green with a dark factor. Her personality was also different - she was fierce, and I noticed that the other three would cuddle up together and Francine would be left out.
Not long after your arrival two more budgies came to stay - one of whom was Cecile and you two hit it off. You were both very sweet but also very mischievous and were glued at the hip. I was so pleased for you that you had found a friend. Your days were spent eating together, preening, singing and guarding toys you thought belonged to you both - dare anyone come near and you'd sound off your warning screech. I often use to watch you and laugh to myself - such a character.
In early 2015 we had a handsome young chap come to join us, he was a real beauty and he caught your eye - we called him Alan Turing. Poor Cecile never got a second look after that - you'd fallen in love, and Alan was the lucky guy. Alan was so laid back it was a real contrast to your hot headed nature, but you suited each other perfectly - the two greens I use to call you. He would follow you faithfully - and if someone annoyed you I'd see you tweet furiously at Alan as if you were telling him what had just happened to you. He always had your back, if you were pulling a toy to bit he would stand on watch out for you. Sadly he developed a tumour a couple of years later and you was inside with him when he passed. You were so strong and back to the aviary you went, you coped amazingly considering your loss.
Alan: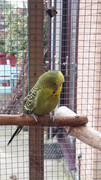 Alan and Francine: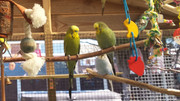 It was then you decided Frank was to be your new boyfriend. I couldn't have picked a better name for you both - Frank and Francine. Frank was blue, which was a change from your usual preference but he had the same laid back and sweet nature of Alan. He too would stand with you and guard whilst you destroyed toys - you were together constantly.
Frank and Francine: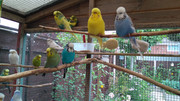 When you became ill with sinusitis you came inside to what you must of thought was the dreaded hospital cage, Frank came with you. When you had to be given antibiotics Frank had to go back outside - he is okay though Francine, he has become best friends with John and they are inseparable so do not worry about him, he is happy. You stayed inside and seemed to improve and had a few days after the meds outside in the aviary. But you didn't seem to be coping so you came back in, along with Henry who had been fighting and hurt his wing.
You had numerous visits to the vets, one which was with Shirley who was also inside. I remember vividly how you looked after her in the travel cage to the vets - sitting next to her protecting her for she was gravely ill. Thank you for doing that for her.
What I didn't realise was that you wouldn't get better, I kept asking would this be terminal and was told no. Whilst you were inside I would let Henry out who would come to your cage and sit with you, he would preen you, feed you and swing on the swing with you -it was very sweet to see and brings a tear to my eye thinking about it. He really stepped in and gave you love when you needed it the most. I will always be grateful to him for the love and compassion he gave to you.
You were suffering and the decision was made to try to flush out your sinuses, off we went in the morning - you were terribly thin but you still bit me as I picked you up, and you were still tweeting your frustration. I remember leaving you in the vets and taking one last look at you as you turned your head to look at me - I looked you in the eye and prayed you'd be okay.
I think you'd suffered too much, the flush should have been done sooner and it was just too late. I am sorry Francine. I believe you should not have died. I am sorry. You would have been 5 years old in a few days. You had never been ill before. It still doesn't seem real now. When I came to collect you, you still felt warm, I just wanted you to wake up. But I knew the ordeal had taken every last bit of strength from you.
I have laid you by the aviary with the others who have passed, I have placed you right next to Alan - he was your special love. I hope you are both reunited over in Rainbow Bridge and flying high.
I was so privileged to have known you Francine, and I miss you daily.
Lots of love always xxx